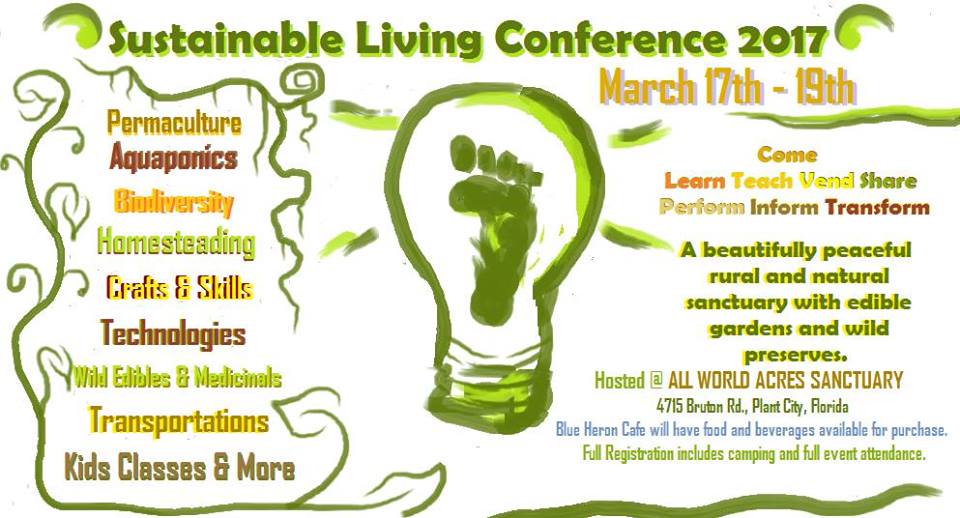 Presentations, workshops, demonstrations and discussion groups on living in sufficiency and balance with nature, in the rhythm of harmony and wellness
Below are some of the activities from the 2016 event. This year will be similar and will be updated soon.
Presentations, Classes, and Demonstrations:

● What is biomimicry and how does it relate to sustainability? This workshop will bring you up to speed on the power of biomimicry science and how it is helping lead humans into a sustainable future while reconnecting us to nature.
● "Natural Building" Presented by Alex Ojeda of Permaculture Jax. Come learn the differences between insulation and thermal mass, and convection heating and cooling. Alex will also discuss safe rainwater capture and forever technology (things that don't wear out or need to be bought).
● Music Performance with Bubba Love & Friends. This razzle dazzle down to earth man is magical whether it's the smiles his ukulele is inspiring or the dreams being birthed in the minds of his listeners when the tones of his voice reach beyond your ears and into your heart. You can't help but to listen to his upbeat songs with their deep message and feel a stir in your existence.
● Wild Edibles walk with Andy Firk. Join the humorous but wise Andy as he takes us around the property educating us on Florida's spring edibles and medicinals that are growing right here available for us to use.
● Mushroom Walk with Mycol Stevens. Join the jack of all trades in the plant kingdom as he takes us around looking for mushrooms and mycelium. Listen to his guidance on their uses and dive into the world of fungi.
● Sustainable flow Yoga Class with Jessie. To live sustainably, one must begin with the body. This class will provide you and your family with an easy but powerful set of poses that will not only help strengthen your body but boost your energy, getting you grounded and ready for the day.
● Wild Cooking Class with Hila Rubinstein from Everglades Treats. Learning by doing! How to incorporate wild edibles in our healthy meals and practicing zero waste. In this interactive class we will be cooking together a veggie dish with wild greens & wild teas.
● Plant Swap Bring plants and/or seeds to swap for ones you don't have.
● Aupaya & The Magick Solar Suitcase. Come one, come all, step right up and experience the Magick solar suitcases. Anyone can do it. This solar powered musical suitcase is far ahead of its time and really adds a fun twist on sustainability.
● Aquaponics for Communities with Jaime Guerra. Come join Aquaponics Consultant Jaime Guerra as he explains aquaponics systems and how they can help feed communities.
● Introduction to Beekeeping with Robert Jones and Alecia Folsom. This workshop is for anyone interested in honey bees or beekeeping. This power packed duo will discuss many aspects of this important practice.
● AWA Garden Tour and Yams with Tom Carroll. Join Tom Carroll as he takes you on a tour through the sanctuary's garden. He will describe his work with the edibles he has been growing and caring for.
● Case Study: 14 years off-the-grid permaculture homestead with Mycol Stevens. Join Mycol to hear his presentation on his permaculture homestead. He will talk about his food growing and many other projects.
● Integrating Animals into Your Permaculture Design with Leon Elt. This workshop is about using animals to close various open loops in your plant systems, making the whole design more resilient and less reliant on outside inputs.
● How Can Permaculture Change the World? with Koreen Brennan. Join Koreen Brennan, a highly recommended Permaculture Teacher and Designer, to discover how permaculture is addressing world scale problems on a local level in your neighborhood, and how you can participate and make a real difference.

Cafe
The Café and General Store will be open throughout the event.
***************************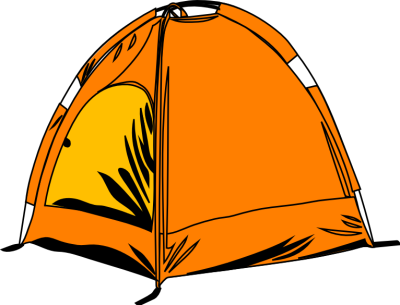 Come and camp for the whole weekend. This is a wonderful way to build community in a comfortable village atmosphere. Nightly bon fires for fellowship, nice shaded camping spaces and a bathhouse with hot showers.


Full Event admission (3 day ticket) Includes all workshops and activities for the entire weekend. Camping is also included. Friday through Sunday per person: $25 early in advance, $30 at the gate.
Proceeds to help support All World Acres, a not for profit sanctuary.

or
Saturday Day Pass; 9am-10pm -- $15 at gate or $12 in advance.
Sunday Day Pass; 9am-6pm -- $12 at gate or $10 in advance.

Scroll Down for Pre-registration Options
*Because this event is being conducted in a natural setting, it is suggested that you wear comfortable clothing and footwear, considering the weather (dress in layers), and navigating non-paved terrain (possibly some dirt, but smooth and level).
While chairs of various sizes and comforts will be available, you may wish to bring your own.
Bringing your own paper and pens for note-taking is strongly suggested.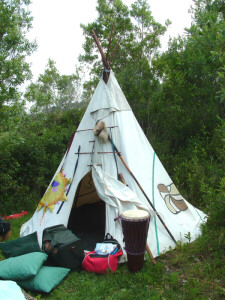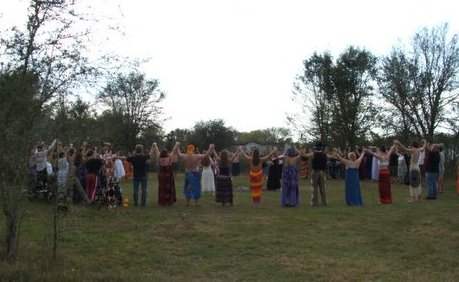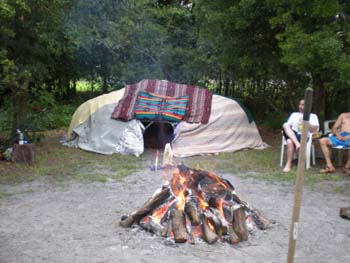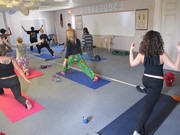 General Info

The site for this event, All World Acres, has hosted more than 130 different events over the past sixteen years. AWA is a not for profit sanctuary and campground that is supported by the community it serves. All of the work done to prepare and facilitate this event is done by volunteers. Their only compensation is the satisfaction of working in a family-like environment to better the community at large. We hope all visitors will want to "join the family" and treat AWA as their home. AWA is located at 4715 Bruton Rd. Plant City, FL 33565. If you are a first time visitor to All World Acres please visit FAQ to learn about site policy.


Admission Options with Camping
Full Event admission prices include all workshops, activities, and camping with hot showers and flush toilets for the entire event. This includes unlimited entry for anytime after 1pm on Friday through Sunday at 6pm. Children 12 years and younger are free
In advance Full Event admission if registered by March 10, is $25 (includes camping for Friday and Saturday). Full Event admission will be $30 at the gate. Please use PayPal button below or see info at bottom of page for mail-in registration.
----------------------------------------------------------------------------------------
Admission Options with No Camping
Saturday Admission; Includes all workshops and activities on Saturday, 9am-10pm. No camping or overnight. Saturday admission will be $15 at gate or $12 in advance. Children 12 years and younger are free. Please use PayPal button below.
Sunday Admission; Includes all workshops and activities on Sunday 9am-6pm. No camping or overnight. Sunday admission will be $12 at gate or $10 in advance. Please use PayPal button below.
Vending; There will be a limited amount of vending space so please register early. The cost for vending will be $10 per 10x10 space in addition to individual cost. Vendors must pre-register. No food vendors. Please use PayPal button below.
The money paid for admission is a donation and may be tax deductible. Receipts are available in the Cafe. No refunds.

Registration by Mail; Send check or money order to All World Enterprises, PO Box 4825 Plant City, FL 33563. Please include your email address to receive confirmation.
Click on links below to learn more
FAQ (Frequently Asked Questions)
It is each visitor's responsibility to be aware of site policy at All World Acres before arrival. This is sent as part of the confirmation email for those who pre-register. If you are planning to pay at gate then please visit FAQ to learn about site policy.
Florida, USA Pagan gathering events in Tampa Bay area, Clearwater St. Petersburg. Orlando, Plant City, Lakeland, Miami, Sarasota, Ft. Meyers, Ft. Walton, gulf coast, South, southern, western, Central Florida Pagans network with festivals, rituals, workshops, craft, gatherings, fair, seminars, conventions, retreats, to share and build community like atmosphere of village, tribe, clan, of neo pagan religion. Come together with Celtic, druid, Wicca, wiccan, witch, witchcraft, goddess culture, Native American, new age, spiritual, mystic, to learn, practice, experience, enlightened sense of self and share, teach and learn about self, spirit, soul. Earth based, Gaia, spirituality, metaphysical festival. Celebrate Beltane, Beltain, Beltaine, Spring, equinox, May Day, Maypole fertility rite and celebration of life.